Rusty Burke, A Celtic Weirdness Production
Year :
June 2001

Book No. :
None

Edition :
1st

Format :
Chapbook (5.5 x 8.5, saddle stapled)

Pages :
32

Cover art :
Not applicable

Illustrations :
None





Introduction

A Few Notes to Begin

Cross Plains


The Robert E. Howard House
The Butler Lot
The "Old Town"
Cross Plains School
The "Ice House"
The Railroad Depot
Main Street
Settle's Tailor Shop
"Hemphill" House
Methodist Church
Cross Plains Review
Rodeo Ground
The Caddo Peaks


Pioneer

Rising Star

Cross Cut

Burkett

Lake Brownwood

Brownwood


Greenleaf Cemetery
Howard Payne University
Brownwood High School
Daniel Baker College
Novalyne Price and Clyde Smith
Pecan Bayou


Bangs

Cisco

Peaster and Dark Valley

Other Points of Interest

Acknowledgements

The title page says "This Preliminary Draft Edition is A Celtic Weirdness Production by Rusty Burke, limited to 200 copies, of which the first 40 copies were for the Robert E. Howard United Press Association. The booklet was included in the June 2001 mailing, #169.

The booklet is full of maps, photos of Howard, his family and friends, and one small article from the Cross Plains Review, "From Burkett", author unknown, from the 10/24/19 issue.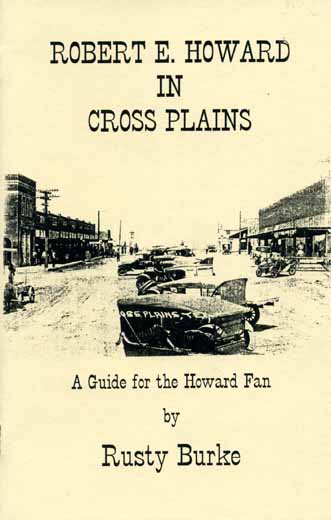 | | |
| --- | --- |
| Other editions: | None |
| Home | |